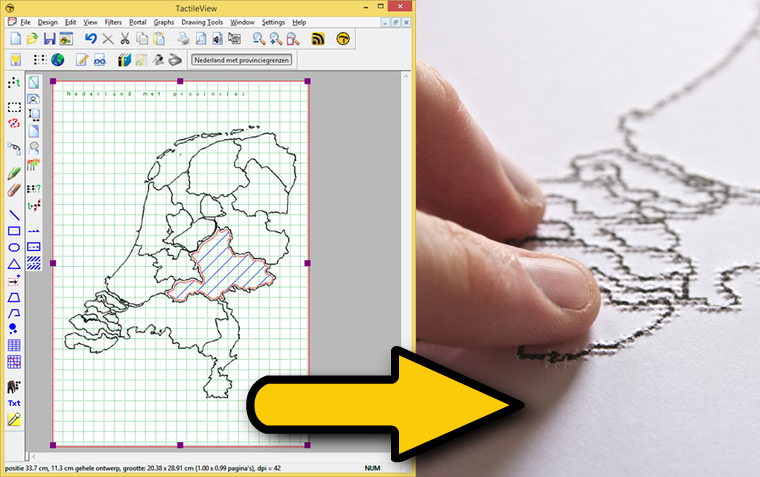 TactileView Software
Digitally design tactile graphics.
Use dozens of functions!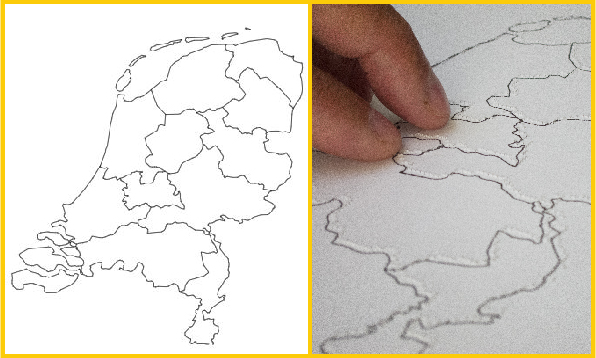 Maps: RouteTactile
Create Tactile Maps
with a few clicks.

Catalog
Share your creations.
Browse what others made!

Formulas & Graphs
No hand drawing needed.
Let TactileView draw grids and math functions!
TactileView creates pictures for people who can not see. These pictures are transformed for them into tactile graphics. Blind people can read them by touch and interpret the tactile material. Easy to use tools are available for the design and production of tactile pictures, diagrams and maps.
Produce your very own tactile graphics: The TactileView concept consists of design software for the creation of tactile graphics and an international web catalog with ready-to-use designs. The software allows production (printing) on a braille embosser or on swell paper (microcapsule paper) or on our TactiPad drawing board with the Thinkable motorised drawing arm (MDA).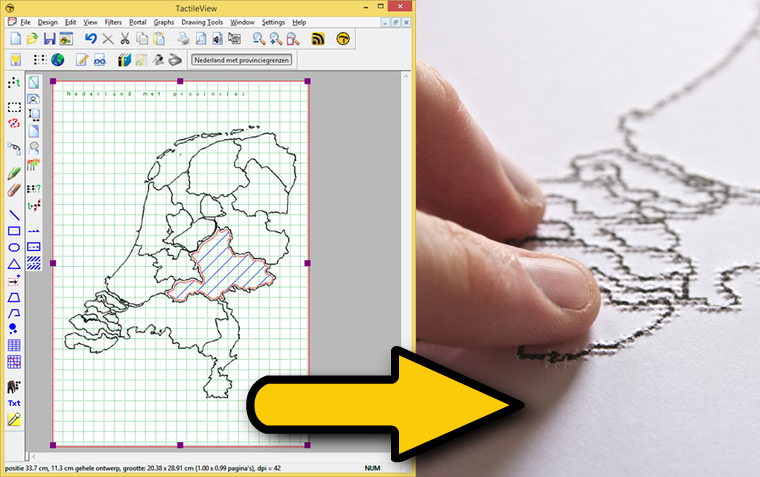 For more information on tactile graphics have a look at About tactile graphics.
---
Product details
Easy-to-use tactile graphics editor in many languages
Fully accessible with the mouse, keyboard or screen reader
Wide range of supported braille embossers
Create designs for printing on swell paper or on our TactiPad drawing board with the Thinkable motorised drawing arm (MDA).
Many drawing tools and image processing filters available for easy editing
Extensive user manual available (online or pdf download)
Thousands of ready-to-use designs can be downloaded from the TactileView Catalog
Importing images from a wide range of file formats and sources
Math module creates graphs of any equation
Produces tactile maps of any area on your desired scale with the RouteTactile map maker
Use the Digital Pen in combination with TactileView
---
Text and graphics documents with Duxbury Braille Translator


TactileView is the perfect software when it comes to tactile graphics, while Duxbury Braille Translator (DBT) is widely used as a tool to create perfect braille translations. By combining TactileView with DBT, you can create documents that contain both tactile graphics and braille texts!
Visit the DBT website for more information about translating documents to braille.
---
Product details
You can find a full user manual as well as tutorials on the TactileView manual page.
| | |
| --- | --- |
| Licence | One-time purchase, unlimited use |
| Delivery | Registration key via email, software download from our website |
| Supported embossers | Models from: APH, BrailleTec, Enabling, Harpo, HumanWare, Index, Irie AT, Nippon TeleSoft, ViewPlus (for a comprehensive overview see List of Supported Embossers) |
| Available languages | Arabic, Chinese, Czech, Danish, Dutch, English, French, German, Hindi, Italian, Japanese, Korean, Norwegian, Polish, Portuguese, Russian, Spanish, Swedish, Turkish |
| File formats | TactileView files (.bpx); import .txt, .svg, .jpg, .png, .bmp, .tiff or .gif |
| System requirements | Windows XP, Vista, 7, 8, 8.1, 10 or 11; for Mac OS X, a Windows emulator is required |
| Parallel Installations | Two TactileView versions from the software generations below and over 2.5 can be installed parallelly on one computer |
| Internet requirements | TactileView can be used offline, but specific functions (e.g. map maker, designs catalog) require internet access |
| Software security | A registration key is valid for software registration on one computer only |
| Returns | Within 14 days; see 'Right of withdrawal' in our terms and conditions |
---
Order information
The latest TactileView version is available to anyone as download for free.
After the installation, you can try it out in demonstration mode. In this mode, your designs will contain watermarks when printed and cannot be saved.
After purchasing a software licence for TactileView, you will receive a so-called SPC (Software Product Code; your license key) by email.
You can then register the installed software with the SPC and use TactileView in full mode. Your produced designs will not contain watermarks anymore and you will be able to save them.