TactileView creates pictures for people who can not see. These pictures are transformed for them into tactile graphics. Blind people can read them by touch and interpret the tactile material. Easy to use tools are available for the design and production of tactile pictures, diagrams and maps.
Produce your very own tactile graphics: The TactileView concept consists of design software for the creation of tactile graphics and an international web catalog with ready-to-use designs. The software allows production (printing) on a braille embosser or on swell paper (microcapsule paper) or on our TactiPad drawing board with the Thinkable motorised drawing arm (MDA).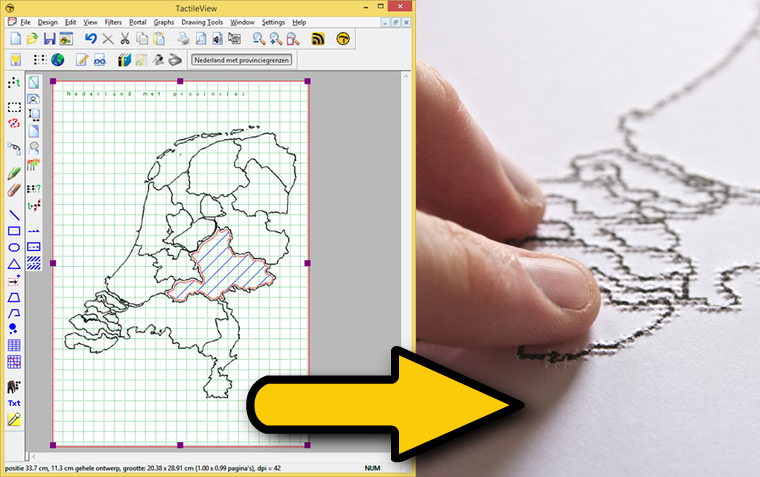 For more information on tactile graphics have a look at About tactile graphics.
---
Product details
---
Text and graphics documents with Duxbury Braille Translator


TactileView is the perfect software when it comes to tactile graphics, while Duxbury Braille Translator (DBT) is widely used as a tool to create perfect braille translations. By combining TactileView with DBT, you can create documents that contain both tactile graphics and braille texts!
Visit the DBT website for more information about translating documents to braille.
---
Product details
You can find a full user manual as well as tutorials on the TactileView manual page.
---
Order information
The latest TactileView version is available to anyone as download for free.
After the installation, you can try it out in demonstration mode. In this mode, your designs will contain watermarks when printed and cannot be saved.
After purchasing a software licence for TactileView, you will receive a so-called SPC (Software Product Code; your license key) by email.
You can then register the installed software with the SPC and use TactileView in full mode. Your produced designs will not contain watermarks anymore and you will be able to save them.