The Square Template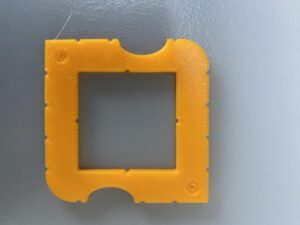 Detailed description of the square template
The sizes of the squares ranges from two to ten centimetres. The frame that forms the square is one centimetre wide. So a four centimetre squared template has the inner dimension of four centimetres. The outside is six centimetres in square.
Two diagonal opposite outside corners are sharp, there you can find the pushpin. The other two corners are rounded. Along the outside a small indent is provided at every centimetre. The inner side has an indent at the halfway position of each of the four sides. In two of the opposing outer sides you find finger fitters for easy lifting or extra grip.
Utilising the square template
When you position the square somewhere on the TactiPad in any orientation and then draw along the inner contour, you create your first square. With the square template you can create many more shapes such as diamond, parallelogram, trapezium, and also 3D shapes such as pyramid or cube.