I was looking forward to finding out what progress had been made on the motorized drawing arm since I saw the prototype at Sight village last year.
I heard that it could draw out pictures so I planned a test for it. First I downloaded a copy of my school logo (png file) onto my phone before Sight Village (2019).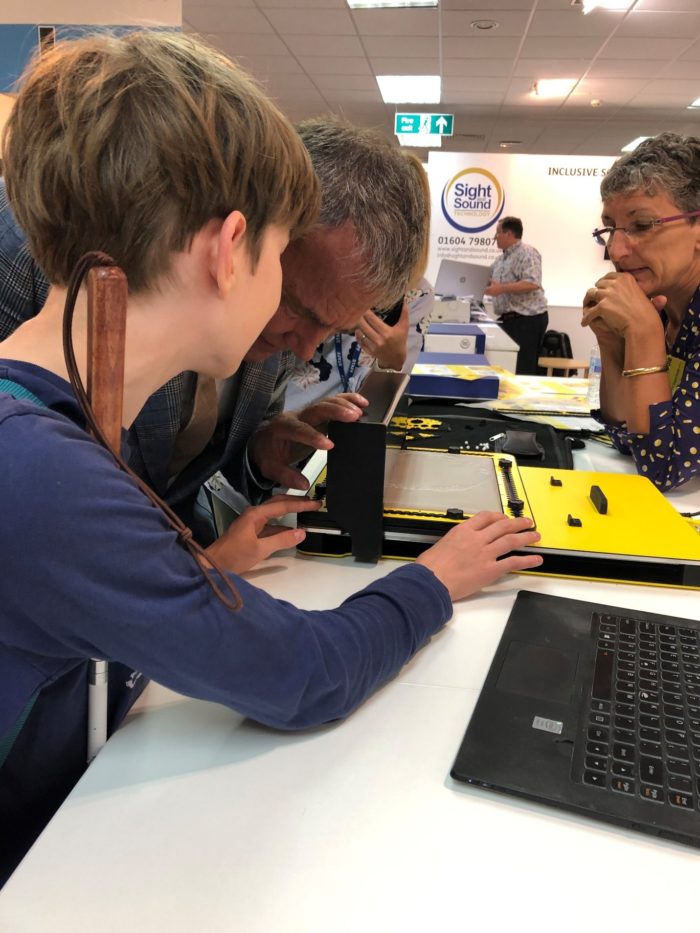 When I got to Sight Village I went to find the motorized drawing arm and my friend Jaap who has invented it. Thinkable were up and ready for the challenge and loaded a clean piece of German film (name for the drawing foil) onto the TactiPad drawing board and slotted it into place.
Firstly, I connected my phone to the MDA-Hotspot Wifi and entered the password. Next as instructed I opened a web browser and went to http://mda/ and asked what to do next. I told Jaap I had a png file I wanted to print out and was a bit concerned to hear that only SVG was supported
So I did not let this stop me, I disconnected my phone from MDA-Hotspot (which had no internet) and registered an account on the public Wifi at Sight village.
Once online, I searched for "PNG to SVG" and found an online converter to convert the file to SVG and then downloaded it again. This seemed to work, I ended up with an SVG file on my phone. Next, I connected back to the MDA Wifi and went back to the MDA webpage where I clicked Upload directory before selecting the SVG file (which was in Cloud Drive).
Still wondering if it was going to work, clicking on the image brought up the message started sketching.
As if by magic the motorized drawing arm motored into action and drew my school logo perfectly!
I could feel all the lines and I ended up taking away a feely copy of my school logo with me!
All in all, I think the MDA passed the test with flying colours and I especially liked the fact that I could do the whole process by myself from finding the picture off the school intranet to having a tactile version of it drawn by the MDA!