The Spur Wheel Template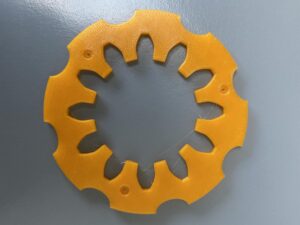 Detailed description of the spur wheel template
There are different types of spur wheels. This shape represents the mechanical properties with which the force can be maximised. When you interlink two wheels of this type, their teeth always have a point of contact under an angle of 90 degrees when rotating. Although it looks like an arbitrary number of teeth can be placed in a circle, this is not the case.
The wheels in the set have 12 or 15 teeth respectively. The spaces between them – their negative counterparts – are placed on the inside of the round template, so that the drawing result will have its teeth on the outside. The body of the spur wheel has finger fitters in eight positions along the outside for easy lifting or extra grip. You find pushpin markers in the top surface of the body.
Utilising the spur wheel template
The spur wheel is a relative complex tool to use / shape to create. We recommend to use one to two push pins to fixate to tool on the TactiPad. Draw the inner contour of the spur wheel and you have created the first step into the mechanical domain or flower design.
Once you have interlinked two spur wheels, you will experience a complex issue: finding the perfect position for one tooth on the one and two teeth on the other wheel to "bite each other". This gives you an impression of how delicate spur wheel systems are in mechanics.