The TactiPad with all its parts can be stored in a case with a handle and a shoulder strap. A special compartment is available for storing the plastic sheets. This compartment is closed by a velcro strap which prevents the sheets from moving during transport. The compartment is below the inner side to which the ruler, set square and protractor are attached using rubber bands. The same rubber bands also keep the compass' base in place, as well as the frame for the reciever of the TactileView digital pen.
The compass branch, a pen and possibly the digital pen are held in a small compartment.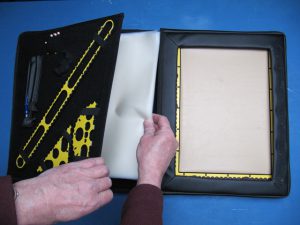 The branch should be placed with its point and spike flat on the case. There is also a pincushion, in which a number of pins can be stuck. The drawing board itself goes into another compartment, which consists of a frame which covers the grooves with the knobs, but leaves the drawing surface uncovered. When the case is inwardly folded, a velcro band keeps it closed. The drawing surface remains uncovered when the case is folded outwards so that, when the case is carried with the shoulder strap, you can draw while traveling.